January Promotions for Current and New Members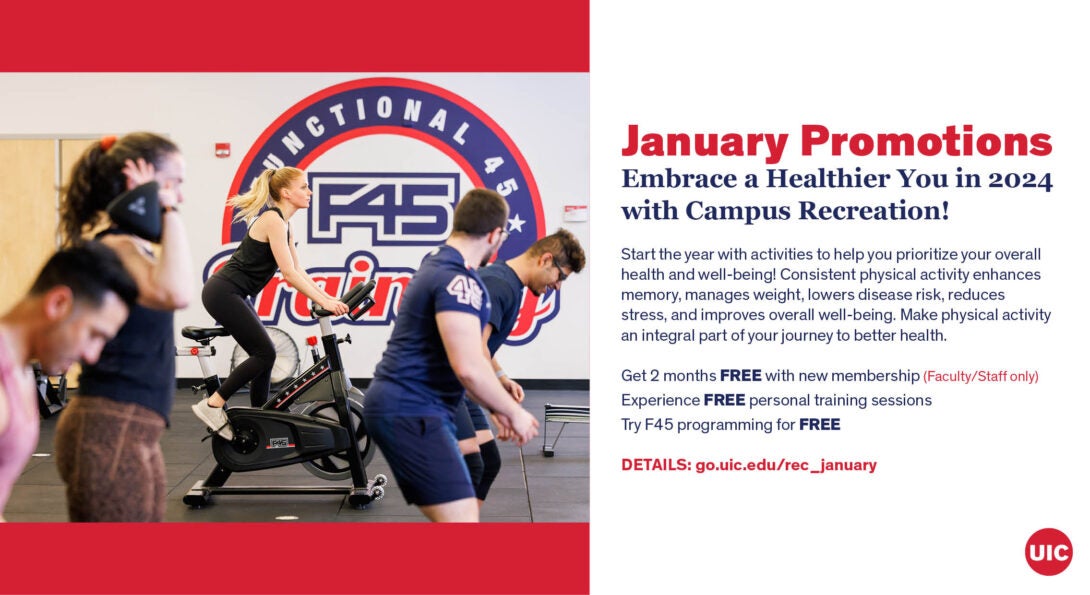 Embrace a Healthier You in 2024 with UIC Campus Recreation!
Start the year off with incredible promotions from UIC Campus Recreation that will help you prioritize your overall health and well-being! Consistent physical activity enhances memory, manages weight, lowers disease risk, reduces stress, and improves overall well-being. Join us in making physical activity an integral part of your 2024 habits and journey to better health.
New Memberships - Faculty/Staff Sign Up and Get 2 MONTHS FREE!*
Yes, you heard it right – two months to focus on your holistic well-being for FREE!
Why Choose UIC Campus Recreation?
Discover our three state-of-the-art locations with:
Running tracks
Cutting-edge cardio and strength zones
Functional fitness spaces
Pristine aquatic centers with pools, steam room, sauna, and spa
A challenging climbing wall
Courts for various sports
Our community welcomes everyone, from beginners to fitness enthusiasts. We have something for every fitness level and interest.
FitWell Center with fitness testing, massage, personal training
F45 Training
The Guantlet eSports lounge
Intramural Sports
Free Fitness and Premium Fitness classes
Swim Lessons
Informal, drop-in recreation for a variety of sports from badminton to cricket to volleyball.
How to Join
Bring your valid UIC i-card to the Student Recreation Facility or Sport & Fitness Center Member Services desk to seize this amazing offer. Let our team know you are a new UIC Faculty/Staff to start your membership immediately. View our competitive membership rates online plus members receive discounts to our services like the two below. After your second month, you will automatically become a member and your monthly or bi-weekly payroll deductions will begin.
*Offer valid for Faculty/Staff only joining Campus Recreation for the very first time.
Not sure if UIC Campus Recreation is right for you?
Visit us from 4:00 PM – 7:00pm on Thursday, January 18 for RecLive where we bring our Campus Recreation RecExperience Program Guide to life with free demonstrations of programs and services.
Additionally, you may bring your i-card to tour facilities in-person prior to signing up or take a virtual tour of our facilities online.
Contact our membership team at 312.413.5150 or uicrec@uic.edu for more information.
Make 2024 the year you invest in your well-being. Join UIC Campus Recreation and let us be your fitness haven. Start your journey to a healthier, happier you today!
Personal Training BOGO
We're bringing you the unbeatable BOGO deal you've been waiting for. Receive a FREE Personal Training session with the purchase of a General Fitness Assessment. It's the perfect opportunity to jump start your year with guidance from a Personal Trainer.
Offer open to members and non-members. General Fitness Assessment must be completed between January 15 and February 16, 2024. Redeem FREE Personal Training session by March 31, 2024. Contact the FitWell Center at 312.413.5174 or fitness@uic.edu for more information.
General Fitness Assessment Pricing:
Student $45
Member $60
Non-Member $90
F45 Training
F45 Try-it Free Days: 01/02/2024 to 01/13/2024 Student Recreation Facility F45 Suite
This is your chance to experience our Team Training Life Changing Workout for FREE! F45 Training is a global fitness community specializing in innovative, high-intensity group workouts that are fast, fun, and proven to get rapid results for members. Classes are led by certified coaches and feature small group sessions that emulate the experience of working with a personal trainer. Discover more through this F45 YouTube video.
Early Bird Savings: Now through 01/14/2024
Plan ahead and invest in your well-being for the semester. Purchase a semester pass by 01/14/2024 and enjoy a $25.00 discount! It's the best way to commit to a holistic, healthier you while saving some extra cash.
To purchase your F45 semester pass, stop by the Member Services or FitWell desks at the Student Recreation Facility or email fitness@uic.edu. The semester pass is valid 01/15/2024-05/04/2024.
F45 Pricing          Student          Member          Non-Member
Monthly Pass             $45                     $60                     $150
Early Bird Discount  $125                  $190                    $475
save $25 before January 15, 2024
Semester Pass            $150                  $215                    $500
Don't wait! These promotions are too good to last, and we can't wait to support your journey to overall health and well-being in 2024. Let's make this year your healthiest and happiest yet.
Visit us today and start your path to holistic well-being with UIC Campus Recreation!
Modified on December 05, 2023