Visit us In-Person or through our Virtual Community   More than just a gym on campus. "Exercise improves mental health by reducing anxiety, depression, and negative mood and by improving self-esteem and cognitive function." 1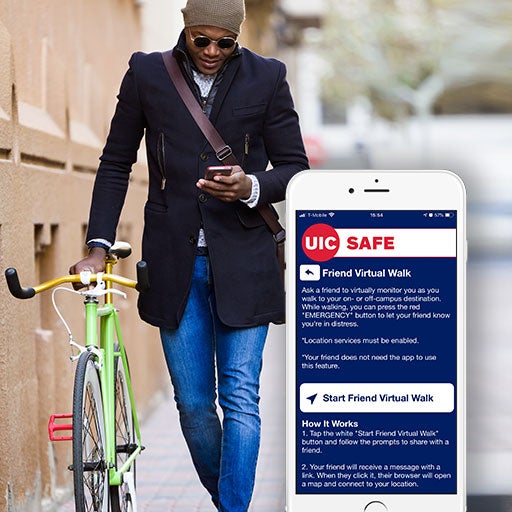 Leaving campus? Use UIC SAFE App
Have your virtual buddy system monitoring your trip.
With around-the-clock access to UIC Police, centralized reporting and support resources, several options for a safer commute, and much more, the UIC SAFE App is a one-stop security shop. There is something for everyone!
Learn More
Log In Here to create your profile and join the recreation movement community

Get involved on campus while doing something fun! Campus Recreation provides a variety of recreational programs, services and facilities to exercise your mind, body and spirit. Whether you enjoy sports and competition, discovery of the great outdoors or personal fitness goals Campus Recreation is a place where you can learn, play and discover experientially in every area of life.
Our Fitness Technicians perform fitness tests and evaluations of athletes and non-athletes. By conducting a series of comprehensive evaluations and measurements, our team can identify your fitness needs and provide you with an individualized exercise prescription. This exercise prescription can be designed to get you started or move you to the next fitness level and beyond.
Learn More