We have made some changes in operation and policies to help provide a safer environment for our students and members and abide by the guidelines put forth by the State of Illinois for our recreation facilities. Please familiarize yourself with these new operations and policies BEFORE returning to Campus Recreation Facilities. Also, please keep in mind that future changes may be made as we continue to adjust to returning to full operation. Thank you for your patience during our closure and know that all of us at Campus Recreation appreciate and value your membership!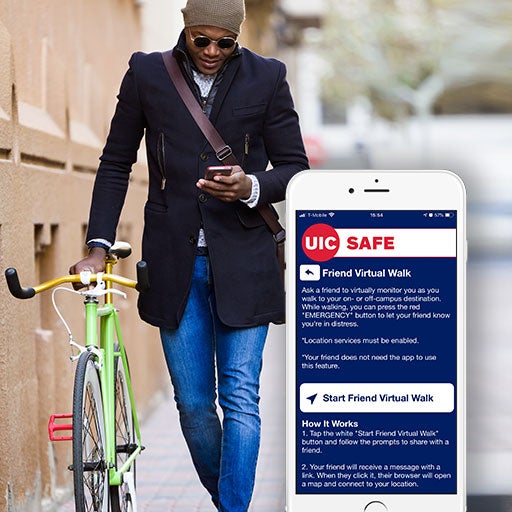 UIC Safe
Leaving campus? Use UIC SAFE App
Have your virtual buddy system monitoring your trip.
With around-the-clock access to UIC Police, centralized reporting and support resources, several options for a safer commute, and much more, the UIC SAFE App is a one-stop security shop. There is something for everyone!
Learn More

Campus Recreation
Get involved on campus while doing something fun! Campus Recreation provides a variety of recreational programs, services and facilities to exercise your mind, body and spirit. Whether you enjoy sports and competition, discovery of the great outdoors or personal fitness goals Campus Recreation is a place where you can learn, play and discover experientially in every area of life.
FitWell Center Fitness Testing
Our Fitness Technicians perform fitness tests and evaluations of athletes and non-athletes. By conducting a series of comprehensive evaluations and measurements, our team can identify your fitness needs and provide you with an individualized exercise prescription. This exercise prescription can be designed to get you started or move you to the next fitness level and beyond.
Learn More