Outdoor Field Complex
Outdoor Field Complex (OFC)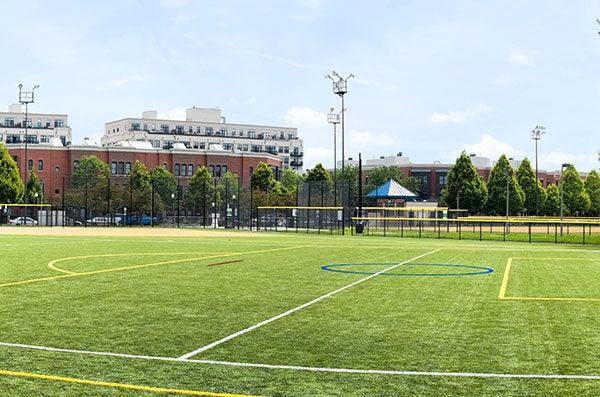 Features
The Outdoor Field Complex (renovated in 2015) features two multi-purpose fields, with more than 214,000 square feet of synthetic turf, sand volleyball courts, a jogging path, and outdoor fitness station.
The fields are designed and marked to accommodate the following activities:
*Current Hours

Outdoor Field Complex (OFC) Hours

Monday – Friday 9am-10pm

Saturday – Sunday 10am-4pm

The fields are designed and marked to accommodate the following activities:

Softball
Soccer
Flag Football
Rugby
Field Hockey
Lacrosse
Outdoor WiFi access for the UIC community

The OFC boasts the following sustainable features

UIC saves up to 2,000,000 gallons of water per year in irrigation costs
The need for fertilizers and pesticides on the playing surface has been eliminated
Approximately 87,000 recycled tires were used to make up the Field Turf's performance infill layer
The installation of the turf field eliminates fuel-powered mowing, aerating and re-seeding
Permeable concrete assists storm water runoff
Wind and solar powered walkway lighting

Sand Volleyball Courts

The volleyball courts are currently unavailable due to COVID-19.

Jogging Path

The asphalt jogging path winds through the perimeter of the field complex and covers roughly .4 of a mile.

Fitness Station

The fitness station is located near the 3rd base foul line beyond the outfield of the West Field. The station is available for use during the normal operating hours of the OFC. The station may be unavailable when Campus Recreation is conducting a scheduled group fitness class or when softball/baseball is taking place on the West Field.
COVID-19 Guidelines and Expectations
– There is a maximum of 110 people permitted in the complex at any time and groups may not exceed posted capacities for each space.
– Multiple groups permitted at once as long as 30-ft of distancing is maintained between groups, and areas for each group are clearly marked to discourage interaction between groups.
– Groups should be static, with no mixing of participants.
– There will be a maximum of two (2) people permitted on the Fitness Station at a time.
– Social distance of at least 6-ft. should be maintained between non-household individuals.
– Masks are required unless specifically exempted through rental agreements adhering to IDPH guidelines.
– Participants should use their own equipment.
– No water fountain available.
Accessing the OFC outside of these hours, is considered trespassing. Violators will be subject to criminal charges.
When the 14th Place gate is secured, the OFC is closed.
The jogging path is accessible throughout the hours above. Patrons using the path should maintain awareness of activity on the fields.
Click here  for a complete schedule of field activity.
OFC Contact Information
900 W. 14th Place,
Chicago,
Illinois
60608