Inclusive Recreation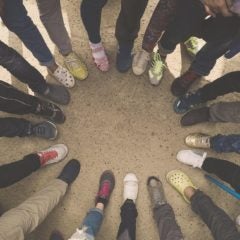 Campus Recreation is dedicated to providing inclusive services, programs, and facilities to all persons, and welcomes participants and visitors reflective of all characteristics including age, culture, different ideas and perspectives, disability, ethnicity, familial status, gender identity and expression, geographical background, marital status, national origin, race, religious and spiritual beliefs, sex, sexual orientation, socioeconomic status, and veteran status.
Inclusive Policies

In addition to providing inclusive facilities, Campus Recreation understands the importance of policies and programs that are welcoming to all participants.

Campus Recreation has a number of policies in place to ensure that all our visitors and participants experience a safe, secure, and welcoming environment. To read more about these policies, please click here.

Staff Trainings

We offer a variety of training opportunities to our staff to further our commitment to providing welcoming customer service and programs.

What does this mean in practice?

Student and professional staff at Campus Recreation receive training on topics such as Inclusivity and Safe Zone Workshops.

We make inclusivity a priority, yet there may be times when someone (either on our own staff or a Campus Recreation user) may not be fully educated or aware of our policies. We make every effort to assure that you are always welcome within our building and at our programs, but if you have a concern, please let any of the staff on duty know, or you can contact Member Services at (312) 413-5162.

Inclusive Facilities

Campus Recreation is committed to providing safe, welcoming spaces for all participants. Gender inclusive restrooms, gender inclusive changing rooms, ADA access, and multiple workout areas designed to accommodate various skill, ability, and individual comfort levels.  As part of our Inclusive Recreation program, we want to make sure we create spaces and environments where people are able to use our facilities without barriers.

Locations and Descriptions:

Inclusive Changing Room

Location within facility: 1st Floor of the SRF near the pool.

The Inclusive Changing Room provides privacy and comfort while creating more options for people who may prefer to use a non-gender-specific restroom or locker room. Additionally, this area and locker room may be used for nursing women and families. This space is open for all members and guests, regardless of identity.

Amenities: Private sink, private shower, common area daily-use lockers,

ADA Accessible

Adaptable Fitness Equipment

Location within facility: Spread throughout the fitness floors and Functional Training Rooms in both facilities (SRF & SFC).

For more information about the equipment and location in the facility, please see a Campus Recreation staff member.

Adaptable Aquatics Equipment

Location within facility: Pool in both facilities (SRF & SFC)

Each facility includes an aquatic lift to aid patrons in entering the lap lanes. The SRF also has a zero-depth entry into the multi-use swimming area.