Campus Recreation Climbing Wall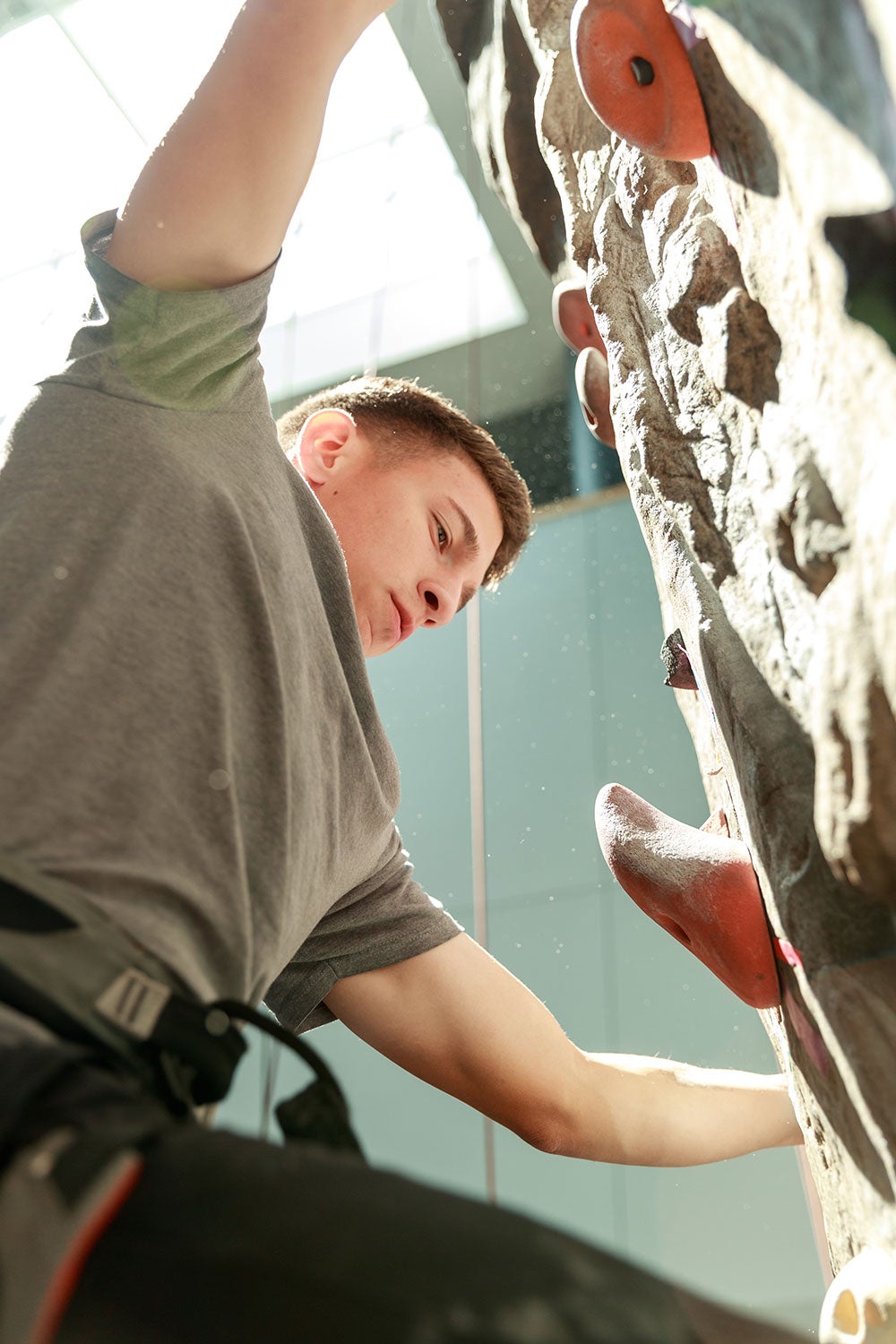 Come and try our incredible Entre Prises' Free Form climbing wall. Entre Prises' is the world's premier climbing wall manufacturer and Free Form is the most advanced product in climbing wall technology. Free Form accurately simulates the look, feel, and detail of real rock! Our wall is 43 feet tall, 7 top ropes across, and has a stunning variety of built-in features such as cracks, flakes, pockets, arêtes, a dihedral, as well as endless intricate features.
Rock climbing is a multi-dimensional sport that requires strength, flexibility, a high level of endurance, and skill. It also offers a balance between physical exercise and mental discipline. Climbers will quickly begin to develop hand, arm, back, and core strength as a result of the movements the climber needs to scale the wall. With practice, climbers will see improvement in agility, their ability to increase strength-to-weight ratio, and flexibility in hips and hamstrings.
In addition, our friendly staff would love to introduce you to this popular and fast-growing sport. We are constantly changing our routes to challenge every type of climber from beginner to advanced skill levels. Each route varies in length and style so climbs never get tedious.
Hours of Operation

Starting Monday January 9th our new adjuested hours will take effect. 

Sundays – 12:00 pm – 4:00 pm

Mondays – 4:00 pm – 10:00 pm

Tuesdays – 10:00 am – 12:00 pm & 4:00 pm – 10:00 pm

Wednesdays – 4:00 pm – 10:00pm

Thursdays – 10:00 am – 12:00 pm & 4:00 pm – 10:00 pm

Fridays – 4:00 pm – 8:00 pm

Saturdays – 10:00 am – 4:00 pm

** Please note, hours are subject to change so please refer to our webpage for most up to date hours. 

Rentals & Reservations

The climbing wall can be rented for birthday parties, student organization meetings,  and private events. All climbing wall rentals include climbing shoes and harnesses. Please

CLICK HERE

to request a climbing wall rental.

Minimum two hour rental.

Student/ Student Organization 

10 or less $45/hour

11-15 $65/hour

16-20 $80/ hour

Member/ Department

10 or less $60/hour

11-15 $80/hour

16-20 $100/hour

Non-Member

10 or less $90/hour

11-15 $120/hour

16-20 $150/hour

Rock Climbing Prices

Climbing is FREE for all students, members, and guests. Climbing equipment prices are as follows:

Daily Rentals

Shoe Rental
Chalk Bag Rental
Shoe Chalk Rental

Student- $3.00
Student- $2.00
Student- $4.00

Member- $5.00
Member- $5.00
Member- $8.00

Climbing Wall Classes

Climbing Classes 

Introduction to rock climbing classes is offered frequently. Three-week classes run once a week for an hour. Classes are taught by experienced staff members and provide a basic understanding of the sport of rock climbing. Students will be taught basic belay and knot techniques as well as valuable climbing techniques to assist new climbers in successfully reaching the top of the wall.

For a nominal fee, students can sign up for classes online. Belay certification is included in the Intro to Climbing class. This permits the climber to belay their friends without waiting for a staff member.

Email Adventure@UIC.edu for more information!

Intro to Climbing 

Intro to Climbing 1: 2:30-3:30 pm February 8th, 15th, and 22rd (Registration Opens January 9th)
Intro to Climbing 2: 2:30-3:30 pm March 3rd, 10th, and 17th (Registration Opens January 9th)
Intro to Climbing 3: 2:30-3:30 pm April 3rd, 10th, and 17th (Registration Opens January 9th)

Lead Climbing 

Lead Climbing 1: 2:00-3:00 pm February 2nd, 9th, 16th, & 23rd* (Registration Opens January 9th)

                                                                     *Participants must be able to comfortably climb routes up to 5.9+

Policies

Specifically at the Student Recreation Facility

The climbing wall is open only during posted, supervised times. The schedule is modified during breaks and summer. The hangboard mounted by the climbing wall is available for use during normal facility hours.
All climbers must sign an Acceptance of Risk, Waiver and Release form which will be kept on file. All new climbers will need to complete a 5 minute orientation with a staff member in addition to the waiver.
Children must be 5 years old or older.
Climbing is free for all fee paying students, members, guests.
Non-members must have a photo ID for each climbing wall visit and check in at member services.
Proper athletic apparel appropriate for climbing is required. Only clean gym shoes will be allowed on the wall and slack line.
Harnesses are provided at no charge to climbers. Patrons may also bring their own equipment for use at their own risk.
Experienced climbers can be certified by the climbing wall staff to belay without an attendant's assistance. If a belay test is failed, the climber needs to wait at least one day before re-testing.
Only assisted braking belay devices are to be utilized on the climbing wall unless an instructional class requires other belay devices.