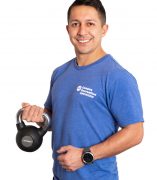 JEFF KORANDA
NASM Certified Personal Trainer
Strength • Any Distance Running • Bodyweight Performance • TRX • Injury Prevention
About
MY FAVORITE PART OF BEING A PERSONAL TRAINER
I enjoy when a client reaches an epiphany and appreciates a complex movement they have mastered correctly.
THE MOST IMPORTANT LESSON I HAVE LEARNED
Giving up is way too easy. Whatever you are perusing--do it wholeheartedly.
THE QUALITY I ADMIRE MOST IN OTHERS
I admire the willingness to try something new. It promotes personal growth and adventure.
WHAT MOTIVATES ME
Achieving weekly goals that lead to one big accomplishment