Outdoor Soccer (7v7)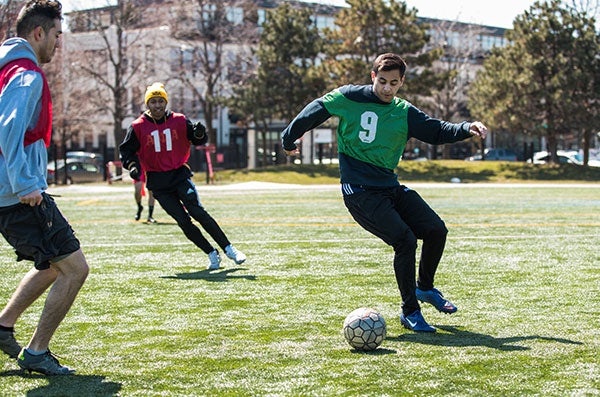 Soccer offers four leagues: Co-Rec, Men's Competitive, Men's Recreational, and Women's. All games will be played at the Outdoor Field Complex (OFC) located at 900 W. 14th Pl., Chicago, IL 60608.
All captains will be required to attend a mandatory captain's meeting on either Wednesday, August 31st (5:00pm) or Friday, September 2nd (2:00pm). Both meetings will be held in person at the Student Recreation Facility (737 S. Halsted St.) in Room 224.
The registration deadline for Soccer is Wednesday, August 31st at 11:59 PM.
| Registration Period | Sport Format | Roster Min/Max | Team Type |
| --- | --- | --- | --- |
| Mon., 08/15 - Wed., 08/31 | League | 5/12 | Co-Rec, Men's Competitive, Men's Recreational, Women |
| Days Offered | Season Begins | Location | Type |
| --- | --- | --- | --- |
| Monday, Tuesday, Wednesday, Thursday | Tue., September 6th | Outdoor Field Complex (OFC - south campus) | Outdoor |