Massage can improve overall health, enhance fitness training, reduce pain, aid in rehabilitation, and promote relaxation. Call 312-413-5174 to schedule your appointment today.
UIC Campus Recreation massage therapy services are available to students, UIC Campus Recreation members and non-members. Massage Therapy is available at the Student Recreation Center (737 S. Halsted St.)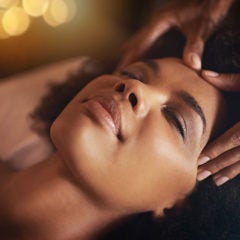 Individuals seek massage therapy for many different reasons but the benefits of massage therapy include:

Enhanced healing of overworked or injured muscles
Relief of muscle spasms, chronic pain, and tension
Increased flexibility or joint mobility
General relaxation
Reduction of physical or mental fatigue
Increased circulation of blood and lymph fluids
Increased athletic performance
Enhanced flow of vital life energy (chi)
For many people, massage is a form of stress management or a way to become more connected to their bodies.
Hours
Student Recreation Facility
Monday – Friday
9:00 am – 7:00 pm
Saturday
By Appointment
Please call 312-413-5174 to schedule your appointment.
Preparing for Your Massage
First-time massage therapy participants should arrive 15 minutes before their scheduled appointment time to complete a brief health history form, which is available at the FitWell Center. Anyone receiving a massage should:
Dress comfortably
Communicate clearly with your therapist about goals, the amount of pressure you wish to be used, and areas of your body where you are comfortable receiving massage
Breathe deeply
Relax and enjoy your therapeutic massage experience
Specialized Massage Services
The FitWell Center offers a wide range of therapeutic massage services in a quiet, private setting. Because our massage therapists strive to meet participants' individual needs and goals, each session begins with a discussion with the participant.
Each of our massage therapists has completed more than 500 hours of training, attended a nationally accredited school and holds an Illinois license to practice massage. They combine their knowledge of massage with information provided by the participant to create a unique session every time.
Various types of massage typically are blended together in a single session:
Swedish
Deep muscle
Myofascial release
Trigger point
Acupressure
Sports massage
Chair massage
Chair Massage
Chair (or seated) massage events offer 5- to 15- minute mini-massages to allow the greatest number of individuals to get a quick dose of rejuvenating therapy during your event. Chair massage is perfect for:
Staff appreciation events
Residence hall study breaks
Career fairs
Tradeshows
Marketing events
Church socials
Donor & fundraiser events
School functions
Health fairs
Alumni events & reunions
Sports events
And MORE!
This service is by appointment only. Requests should be made a minimum of 2 weeks in advance of your event. We will do our best to accommodate all reservation requests but cannot guarantee that we will have therapists available during your requested time.
To schedule off site Chair Massage please call: 312-413-5154
**Price for this service is $75.00 per hour. (Plus parking if applicable)
Payment and Appointment Information
| Affiliation | 30 Minute | 60 Minute | 90 Minute | 3 Pack | 6 Pack |
| --- | --- | --- | --- | --- | --- |
| UIC Student | $35 | $55 | $73 | $150 | $264 |
| Campus Recreation Member | $45 | $65 | $99 | $175 | $312 |
| Non-Member | $55 | $85 | $125 | $229 | $408 |
Clients may choose to purchase one massage therapy session or buy a package of either 3 or 6 hourly massages.
Gift Certificates
Happy Birthday! Congratulations! Thank You! With so many healthy benefits, a UIC Campus Recreation massage certificate is a great gift for any occasion.
Gift Certificates can be purchased at Member Services at the Student Recreation Facility (737 S. Halsted St.) or the Sport & Fitness Center (828 S. Wolcott Ave,) Gift Certificates expire one year after the issue date.
FAQ
First Massage Experience
If this is your first massage session, your massage therapist will explain the procedures, techniques, and discuss your expectations for your massage session. We want you to be as comfortable as possible. Feel free to ask any questions to your therapist before or during your session. Here are some FAQ's.
What do I wear?
When you enter the massage room, your therapist will talk to you about any specifics for your massage and then leave the room for you to get undressed. You can undress to your level of comfort. You will lie underneath the top sheet. As your massage therapist works on you, he/she will expose only the area that will be worked on.
Can I work out before my massage?
Yes, you can. But, please allow 30 minutes for your body to relax and get back to normal blood pressure and pulse. Please SHOWER before your massage if you do workout. Not only for sanitary reasons, but also our lotion will not allow a smooth glide with certain techniques.
Can I work out after my massage?
Yes and No. Depending on the type of massage you received and how long it was. The deeper the work and the longer your session, your body needs recovery time. If you had a long, relaxing session, your body will not feel like doing anything but relaxing.
Do I have to talk during the session?
The main communication that needs to happen during your massage is for your comfort level, if you need more or less pressure, and/or if you experience pain in certain areas. General conversation during your massage is not necessary; you can talk as much as you would like or not at all.
Do I have to drink water after my massage?
It is important to replenish your body's muscles with water. You don't have to drink extra, unless you're already dehydrated.
Should I keep my appointment if I start feeling sick?
No. If you start feeling sick, please call the office to cancel/reschedule your appointment. Massage may increase your symptoms and you may feel worse after your session.
How do I purchase my massage session online?
Here is a guide to help you purchase your massage session online.